Innovative European Products for Unique Environments
halo
halo
product specifications
Our curvaceous circular designs are made from 100 per cent fibreglass and produce striking landscape features. Each seat can be made in any BS/RAL colour to match any colour scheme or corporate interior. Halo is lightweight and modular in construction and thus easy to install.
Halo is a beautifully striking yet comfortable seat which can be adapted to fit most spaces. Simple curves and colour add beauty and fluidity to exteriors, interior meeting areas, showrooms, exhibition spaces, foyers and lobbies. Halo can be fitted together to form a circle measuring 3m in diameter or can be designed to snake around outdoor or indoor features.
TECHNICAL DATA
Material
Colored fiberglass.
Dimensions
120 / 300 x 50 x 45h (47.25" / 118" x 19.75" x 17.75" h)

Fixation
Sits directly on the ground.. Can be weighted.


Maintenance
Maintenance-free
Colors:
Have your products manufactured in your corporate colours or any other colour of your choice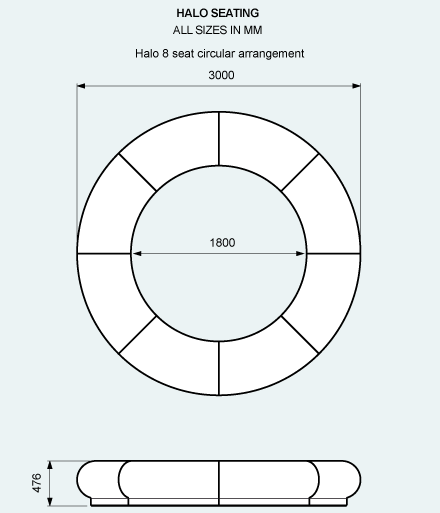 green_plastic RAL120 70 60